Iowa bull, bucks off Idaho cowboy – Round 4 WNFR
December 6, 2020 11:00PM CST
Iowa based stock contractor
Barnes PRCA Rodeo's
bull #211 Pot Licker was no match for Roscoe Jarboe from Idaho.  Two jumps and Jarboe bailed off to the right.  Stock Contractor Marty Barnes said, "The Charolais and Brahma crossbred bull usually does two jumps then turns back."  A ProRodeo history nugget is Barnes PRCA Rodeo had stock at the very first, 1959, National Finals Rodeo (NFR) held in Dallas, Texas.  Nearly 8 decades later they bring stock back to Texas for the 2020 Wrangler NFR.
Established in 1950 Barnes PRCA Rodeo from Peterson, Iowa continues to be a premier livestock contracting company and member of the Professional Rodeo Cowboy Association (PRCA).  The longevity of Barnes PRCA Rodeo is captured in the marketplace where community celebrations have been continuous partners dating back 40, 50, and 60 years.  The Buffalo PRCA Championship Rodeo in Buffalo, Minn. and the Spooner Rodeo in Spooner, Wis. and Cherokee, Iowa each surpassed their 65th celebrations.
Today second-generation Marty Barnes owns and manages all aspects of the livestock, rodeo production, and breeding program with his son, Westin Barnes.  Westin and his wife Katelyn are the proud parents of the fourth-generation Elsie, Martin, and Lyle.  The great-grandchildren of Bob Barnes will one day continue the tradition.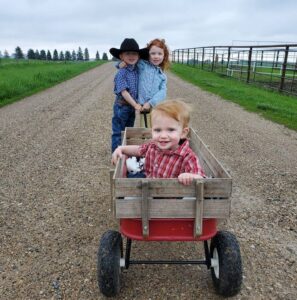 In Round 3, Jarboe, was knocked out and tonight you could tell he wasn't up to his riding potential. Jarboe placed second in Round 2 and won $21, 577 with an 84 point ride.  He won the Cody (Wyo.) Stampede in 2020.  In 2018, he placed in four rounds to rank fourth in the average with 404 points on five head at the 2018 Wrangler NFR.
Quote of the Night from TV – Donnie Gay said, "Jim Shoulders use to say, money heals anything." in reference to a bull rider holding his shoulder after his ride.
More about:
---